Monthly
Weekly
Daily
List
MO

TU

WE

TH

FR

SA

SU
28

29

30

31

1

2

3
4

5

6

7

8

9

10
11

12

13

14

15

16

17
18

19

20

21

22

23

24
25

26

27

28

29

30

1
Events for September
1st
No Events
Events for September
2nd
No Events
Events for September
3rd
No Events
Events for September
4th
No Events
Events for September
5th
No Events
Events for September
6th
No Events
Events for September
7th
No Events
Events for September
8th
No Events
Events for September
9th
No Events
Events for September
10th
No Events
Events for September
11th
No Events
Events for September
12th
No Events
Events for September
13th
No Events
Events for September
14th
No Events
Events for September
15th
No Events
Events for September
16th
No Events
Events for September
17th
No Events
Events for September
18th
No Events
Events for September
19th
No Events
Events for September
20th
No Events
Events for September
21st
No Events
Events for September
22nd
No Events
Events for September
23rd
No Events
Events for September
24th
No Events
Events for September
25th
No Events
Events for September
26th
No Events
Events for September
27th
No Events
Events for September
28th
No Events
Events for September
29th
No Events
Events for September
30th
No Events
Art & Wine Stroll
Enjoy art, wine, and more all located on the streets of our Historic Downtown.
Kid's Day
Come out and enjoy this fun, free event where we transform the entire four blocks of our Main Street into the ultimate kid's zone filled with exciting and educational activities.
Taste of Crowley
Our major fundraiser that features hearty samples from local restaurants, live music, art, and FUN!
Christmas in Crowley
Our old-fashioned Christmas celebration that features pictures with Santa, hayrides, stories with Mrs. Claus, and so much more!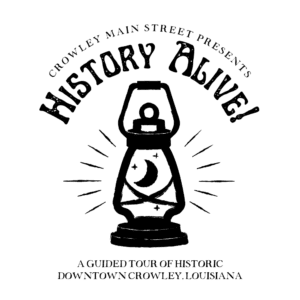 History Alive
 A guided walking tour of Historical Downtown Crowley where you can discover fun facts, spooky stories, and more!
Meet Main Street
We're giving the community the opportunity to meet us! Join us to learn more about the Crowley Main Street program, volunteering, our events, and so much more!