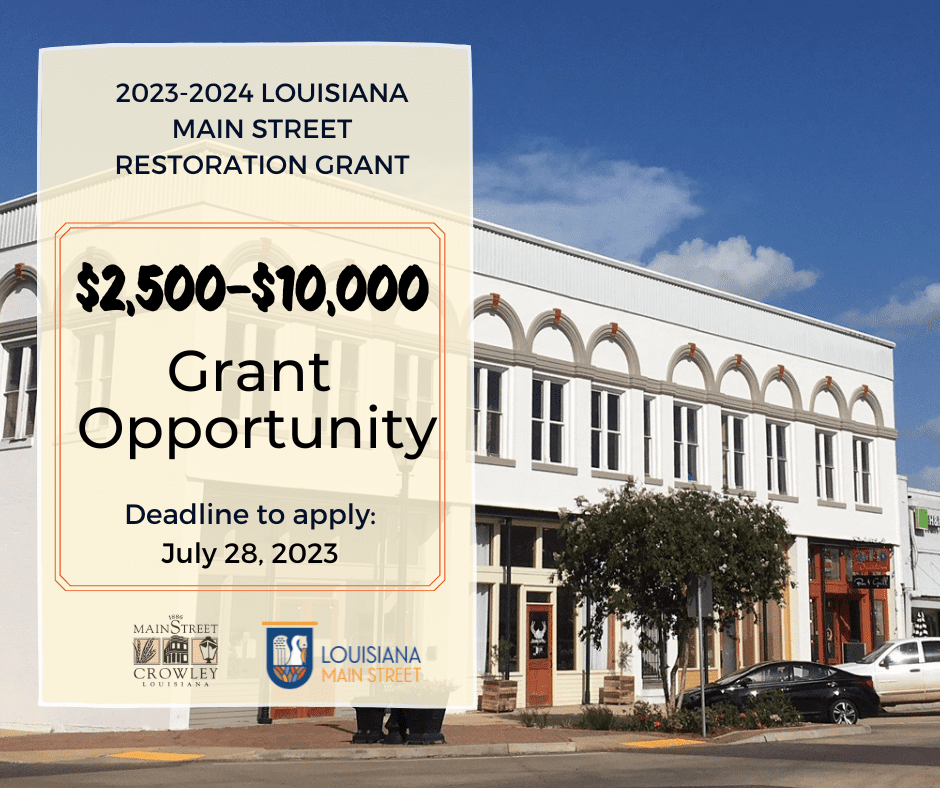 2023-2024
Restoration Grant
Louisiana Main Street Restoration Grants provide matching funds to encourage the revitalization of historic downtown commercial properties in designated Louisiana Main Street districts. The Louisiana Main Street Restoration Grants serve as an effort to promote community revitalization and stimulate economic growth and vitality, in addition to enriching cultural tourism. Community reinvestment utilizing historic preservation practices improves community economic health by fostering renewed interest in shopping, working, and living downtown.
Grant funding and the number of grants awarded are dependent on state budgets and the amount of funding appropriated by the legislature each year.
This is a reimbursement, matching funds grant!
Grant awards may range from $2,500 to $10,000. Grants require a dollar-for-dollar monetary match toward hard costs. In-kind contributions cannot be used to fulfill the match requirement.
Who May Apply
Property owners or tenants of commercially-zoned properties located within designated Louisiana Main Street districts as of December 31 of the calendar year preceding the application deadline.
Buildings must be at least 50 years old and must contribute to the significance of the local Main Street district. Buildings less than 50 years old may be eligible if they meet National Register criteria for exceptional significance as an integral part of a historic district that is listed or eligible for listing on the National Register of Historic Places. The local Main Street director will assist the applicant in determining if the building meets this eligibility requirement. Louisiana Main Street will make the final determination based on the support documentation submitted with the application.
Deadlines:
Friday, July 28, 2023: Grant applications must be submitted online to Louisiana Main Street by this date.

Grant recipients should receive notification by early September 2023.

All work associated with the project scope must be underway no later than 60 days of signing the grant agreement.

Tuesday, April 30, 2024: Grant-funded work must be completed by this date in order to receive grant payment.

Friday, May 31, 2024: Deadline for reimbursement requests to be filed with Louisiana Main Street using the reimbursement form included in the grant agreement.
Restoration Grant Guidelines and application steps may be downloaded below. Applications and supplemental materials will be submitted through the Submittable online grant application platform. You must create a free Submittable account in order to submit your application at: www.submittable.com.
Grant-funded work must comply with the Secretary of the Interior's Standards for Rehabilitation, available at the National Park Service's website: https://www.nps.gov/orgs/1739/secretary-standards-treatment-historic-properties.htm.